Welcome To Musically Yours DJs
Since 2003, our family owned San Diego DJ company has received many compliments and reviews for being the most fun, personable, talented, and diverse DJ entertainment for mobile events. We pride ourselves on offering personal wedding DJ consultations and demonstrations at our showroom studio. See how we can support your vision prior to booking your entertainment!  MY DJ's San Diego DJ Team enjoys being part of the fun!
Reserve Your Date Now! It's "booking season" right now and our remaining dates for  2019 are going fast – please contact us as soon as possible to place a courtesy hold on your date!
Make an appointment to visit  our private studio. It is the perfect setting for individual consultations, allowing you to discuss every detail of your big day with their team ahead of time. Our experienced staff is full of customized recommendations for everything from music selection, to lighting and set design, to the perfect DJ mix, ensuring that your entertainment is exactly what you envisioned.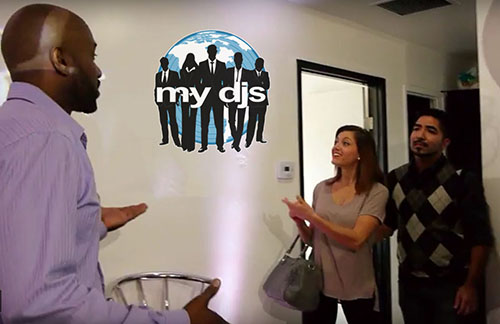 WHAT DO OUR CUSTOMERS THINK?